Ship and Port Handling Equipment
Cranes are loading goods on a cargo freighter. In another section of the port alumina is running over conveyor belts into a cargo hold. An engineer is checking the ship's engine with the latest technology. Containers are being loaded from a containership onto trucks that will take them to their destination. For more than 40 years, Machinex delivers everything that is being applied in this picture to the ports of this world. Machinex – we connect ports.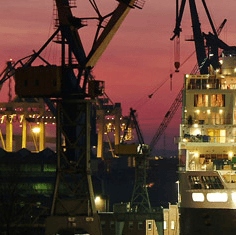 To push our export business we needed more ships and loading facilities. Quick and efficient, Machinex established themselves as our number one in ship and port handling equipment.
By connecting ports – you connect people.